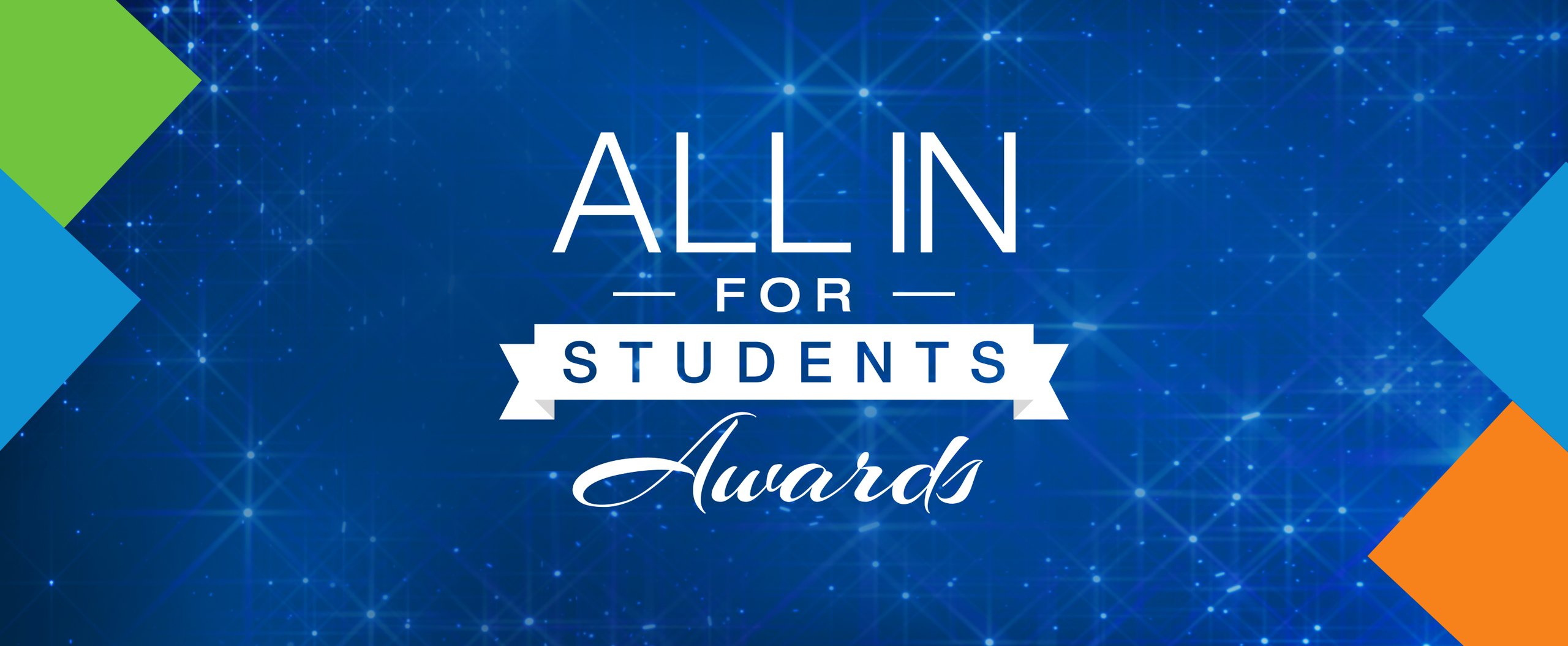 Congratulations to Our 2023 All In For Students Award Recipients
By Communities In Schools | Aug. 30, 2023
The Communities In Schools All In For Students Awards is a national recognition and celebration of the individuals and partners working to make a significant impact in schools and communities across the country.
Since 2007, the All In for Students Awards have honored the contributions of key alumni, staff, education and funding partners, legislative representatives, business and community leaders, and others who have demonstrated their commitment, expertise, compassion, and fulfillment of the Communities In Schools® (CIS®) mission: to surround students with a community of support, empowering them to stay in school and achieve in life.

Anahi Ibarra  


Distinguished Service Alumni Award  

Anahi Ibarra, an alumna of CIS of Los Angeles, is being honored for her commitment to supporting and mentoring youth and young adults as a current CIS site coordinator, arts advocate, and community leader. Anahi joined Communities In Schools of Los Angeles at Jefferson High School. She was given consistent support to help her keep her grades and attendance up, as well as a space for her to do her homework when she needed it. Upon graduation she was accepted into The University of California, San Diego as a first-generation college student.   

Anahi started as a site coordinator at Markham Middle School last fall, in the neighborhood she had already loved, cared, and worked for: Watts. In her work, she aims to highlight and uplift neighborhoods like Watts and South Central as a way of combating negative stereotypes that the media tends to portray. Additionally, she foresees bringing in more creative opportunities to help inner city youth tap into their creativity and expression. 

Dr. Jeffrey Menzer  


Education Partner Award   

Dr. Jeffrey Menzer is recognized for his partnership with CIS of Delaware by serving as an ambassador for CIS to be in every school throughout the state of Delaware. In 2021 Dr. Menzer exerted his leadership by advocating for collaboration on efforts to improve graduation rates in 5 school districts in Northern New Castle County.  

This education initiative, known as Boost '22, focused on seniors in the Class of '22 and getting them across the finish line. In 2022, that initiative changed to Boost '26 with the same school districts in order to track 9th graders to graduation in 2026. The vision of Dr. Menzer for his district is to have CISDE as a significant part of the academic and social-emotional programming in all of his schools and programs.  

Sylvia Jabaley  


Site Coordinator Award   

Since joining CIS of Cape Fear as a student support specialist in 2018, Sylvia has been a champion for supporting student mental health and was the first to bring trauma-informed wellness programs directly to students. Ms. Jabaley was also the first to provide Community Resiliency Model (CRM) training to the staff at New Hanover High School to further spread a trauma-informed approach into the classroom.  

Jabaley's vision is a community where students can find the power within to graduate, and further their lives through their unique passions. This summer, Sylvia spearheaded a new credit recovery program, thanks to a collaborative grant effort between CIS, United Way, and NHHS. The first cohort Jabaley led at NHHS resulted in 12 students quickly recouping the credits needed to walk across the stage at graduation in May. The first cohort was so successful, the school district decided to expand credit recovery labs to each high school in the region.    

Ballmer Group  


Philanthropic Partner Award   

Ballmer Group is being recognized for investing up to $165 million to help scale CIS' integrated student support model to 1,000 new majority low-income (i.e., "Title I-eligible") schools. Learn more about Ballmer Group's investment.