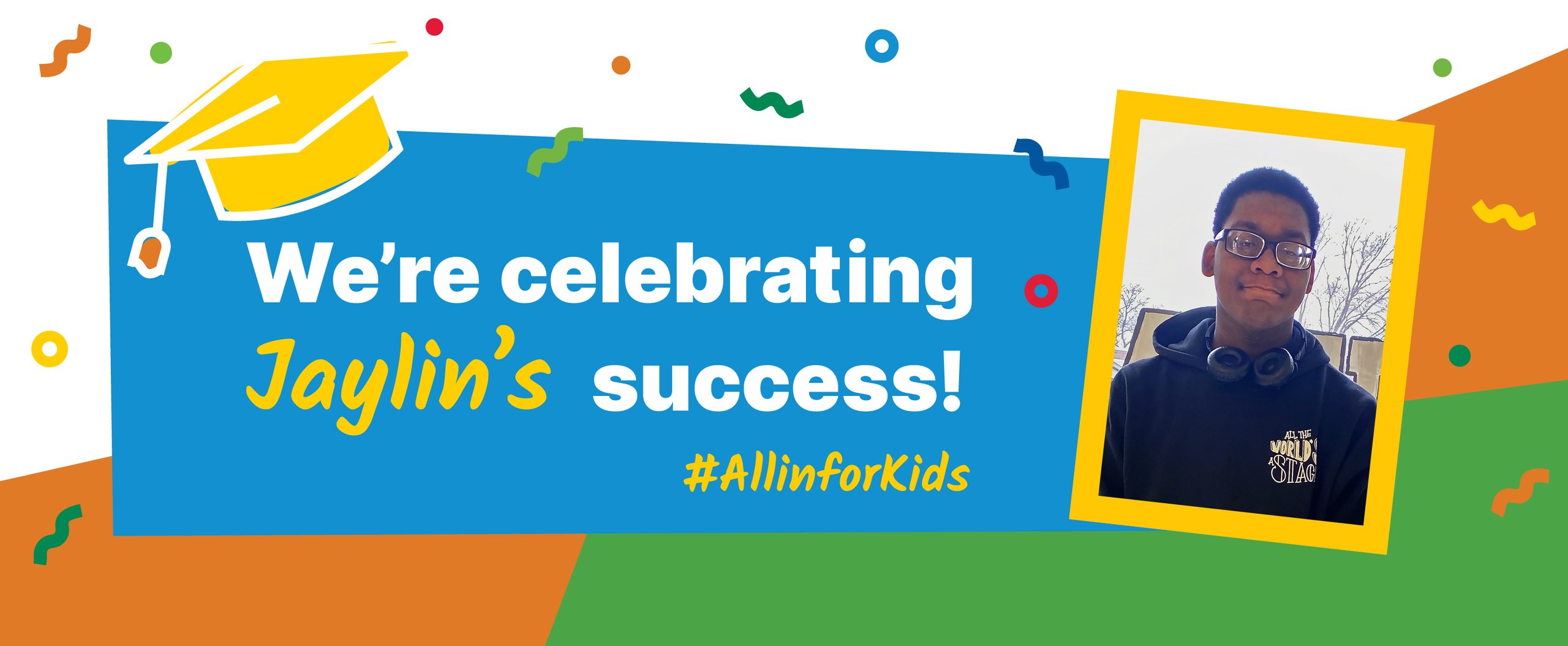 Jaylin: Learning How to Trust in Himself
By Communities In Schools | May 1, 2023
This year's graduating seniors have had their entire four years of high school impacted by the COVID-19 pandemic. During that time, uncertainty and social isolation have been challenges for many of our high school students. At Mather High School, on Chicago's far North Side, Communities In Schools® (CIS®) of Chicago's Senior Student Supports Manager Stephanie Estrada has been a steady, trusted presence all four years of the pandemic. One of the students she's worked with throughout that period – Jaylin – is graduating this June. Here is his story:
Jaylin, 17, lives on the West Side of Chicago and travels by public transit an hour each way to attend Mather. He started out strong in the first semester of freshman year. But Jaylin lost his focus and motivation after having to move from his apartment unexpectedly during the pandemic. He had to care for toddler-aged nieces and nephews and was disconnected from remote classes. Eventually, he failed two semesters. 
After Jaylin began weekly meetings with Ms. Estrada, learning coping skills and other strategies to deal with stress and stay focused, he became engaged in school again and steadily improved his attendance. 
In a time where I was unmotivated, felt isolated, and alone, Ms. Estrada taught me that I can trust others and that I can trust myself. Having her around to listen to me, encourage me, and teach me new skills helped me to become a better and healthier person. I know that I can do great things in the future and I can follow my dreams. It took some time to figure it out, but Ms. Estrada stuck around to make sure that I did.

-Jaylin, Graduating Senior
As he prepares for graduation this June, his grades are back up, and he's actively involved in Mather's theater program. He plans to attend community college this fall to pursue an interest in auto mechanics and credits Ms. Estrada and CIS as an important part of his success.
"Jaylin's resilience has left a mark on my work and on my person.  He has gone from a disengaged student struggling to find the motivation to perform academically to a student who actively works to perform well academically, show up for others, and show up for his school community. Knowing that I was someone who provided him with a space of trust where he felt confident and comfortable brings me so much joy. I cannot wait to see what else Jaylin will accomplish," said Stephanie.
Sometimes all it takes is one person to show up for a student. Stephanie Estrada is an example of a CIS site coordinator who can transform the outlook of a young adult; by offering consistent encouragement, guidance, and support, so that students like Jaylin are able to reengage in school and work towards their future goals.