Our Partnership Models

The Difference Is IN

 

Our affiliate partnership model is unique in its ability to support the implementation of Integrated Student Supports through a dedicated team of school support staff. In this model, a local Communities In Schools affiliate is identified to work alongside schools, districts, and state education agencies as a long-term partner for school improvement. For more than 40 years, Communities In Schools has perfected this model of partnership through more than thirteen independent evaluations.

 

At the heart of this partnership model are experienced practitioners (also known as site coordinators) that work full-time within schools to support and enhance their ability to meet the needs of at-risk students. Site coordinators are employed, trained, and managed by a Communities In Schools affiliate that works in close partnership with school leadership to ensure their effectiveness. Within a school building, site coordinators help to identify and manage community partners, while also coordinating the delivery of school-wide resources and programs. Most importantly, site coordinators are also focused on providing individualized support for a case load of students identified as at risk of dropping out.

 

 




Located in more than 26 states and the District of Columbia, our affiliate network supports thousands of schools across the country in urban, suburban and rural communities. And, in each of the communities where we work, our affiliates partner closely with schools and districts to provide a set of programs, services, and resources that are as unique as the students we serve. Use our Affiliate Finder tool to locate an affiliate in your area and learn more about local partnership opportunities.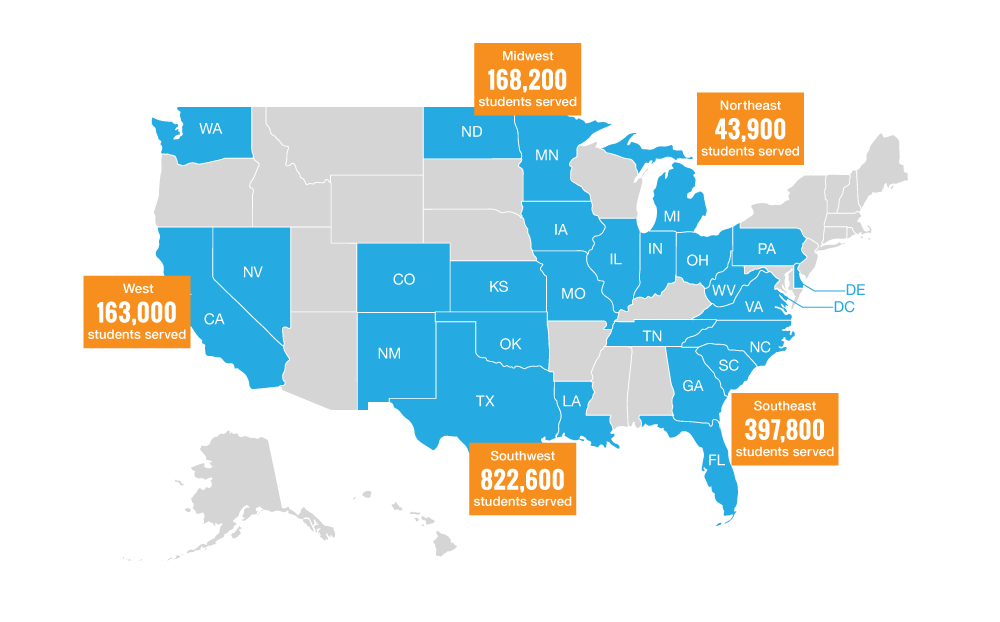 Through our current footprint, Communities In Schools is proud to serve more than 1.5 million students each year. Yet, we know there are millions more that remain without the support they need. A staggering 14.5 million children under the age of 18 are living below the poverty line (U.S. Census), and over half (25.6 million) of all public school students are eligible for free or reduced-priced lunch (National Center for Education Statistics, 2016). This is the harsh reality for far too many kids in the United States and evidence that the need for Integrated Student Supports is becoming more important than ever.
True to our vision, Communities In Schools strives to create a more equitable school system where every child in America will have a community of support in and outside the classroom. To meet this ambitious goal, we've committed to a five-year plan to serve at least 300,000 more students through our model of Integrated Student Supports. This means expanding into new communities beyond our existing affiliate footprint, with a specific focus on Title I schools struggling with low graduation rates, high dropout rates, and high rates of chronic absenteeism.
Interested in partnering with Communities In Schools to establish a new affiliate in your state? Complete the partnership inquiry form to be contacted by a member of our business development team.
Are You #AllinforKids?
Join our community of changemakers and stay connected with us! 
Learn more about the work Communities In Schools is doing to empower and equip every student to take on and tear down the barriers that stand between them and an equitable path to education. 
↑

TOP