2019-2020 Communities In Schools Data Book
By Communities In Schools | June 3, 2021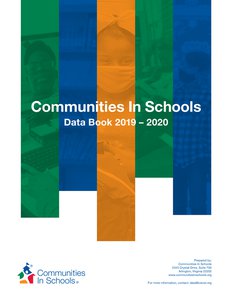 Historically, our Data Book has provided a comprehensive look at the CIS network: our staff, schools and students served, and our results. This year, our data go beyond the usual and help tell the story of an unprecedented year that marked the beginning of a pandemic characterized by uncertainty, crisis, and widespread disruption in learning for more than 50 million students across the country.
Within the Data Book, the incredible efforts of our 121 organizations, more than 4,000 staff, and 30,000 volunteers to reconnect with students and families, assist them in their recovery, and help them reengage in learning are represented through infographics, charts, and tables.
Our data help tell the story of our work and hold us accountable to our mission of surrounding students with a community of support, empowering them to stay in school and achieve in life.
About the Data
This Data Book provides an overview of CIS organization and licensed partner operations and human resources, site-level staff and student supports, and student demographics and achievement during the 2019-2020 school year. Data represent operations as reported by organizations through our annual data collection process. The sample size for each data point may vary based on available information.