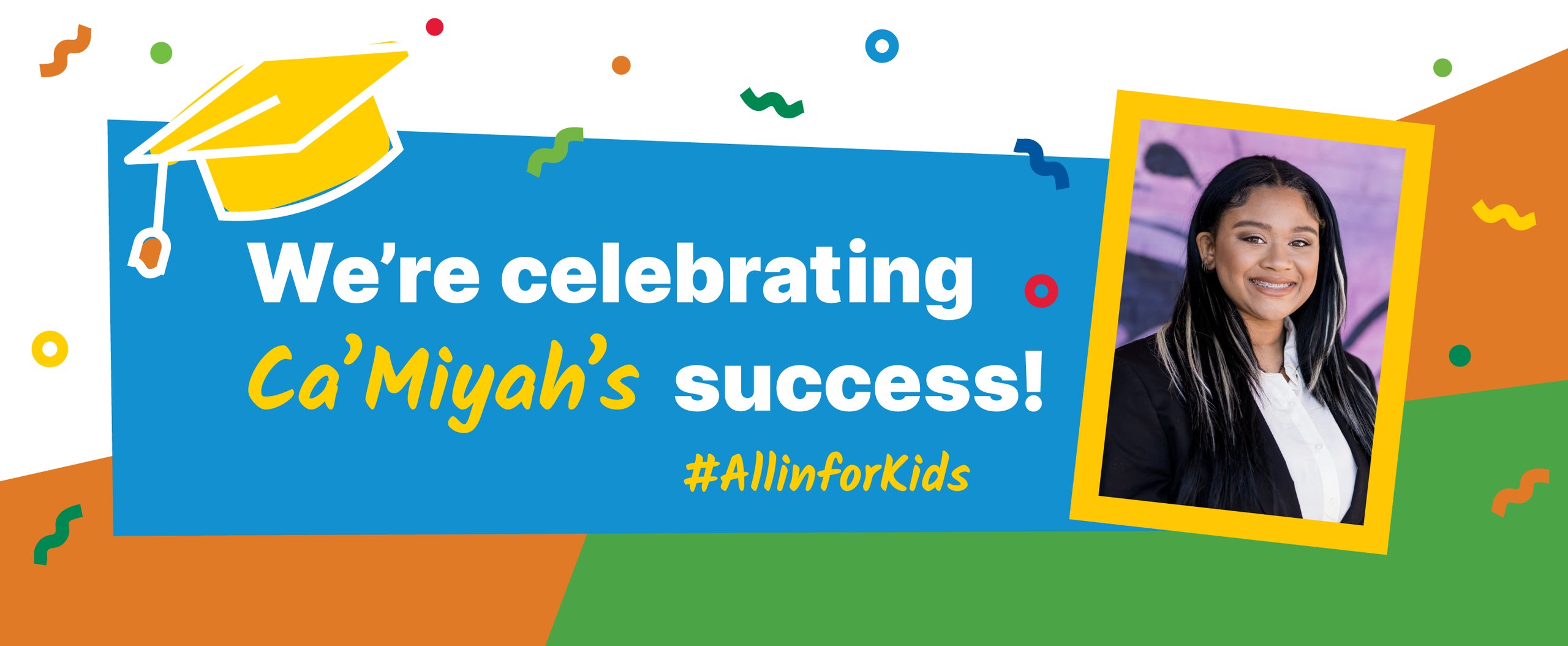 Ca'Miyah: Prioritizing Her Future
By Communities In Schools, Ca'Miyah | May 8, 2023
Communities In Schools® (CIS®) of Richmond began working with Ca'Miyah her freshman year of high school. Today she is a dual-enrollment senior at Huguenot High. Since a very young age, Ca'Miyah has worked many jobs to provide for her family. When she decided to start her own crochet business, Ca'Miyah's site coordinator Dean McKnight began using yarn as an incentive to help her improve her attendance and academics. CIS and school staff also provided Ca'Miyah with input and a forum for her to process ideas regarding the business structure and profit margins. 
Through their collaborative efforts, Mr. McKnight and site coordinator Abby Tyree have contributed to Ca'Miyah finding a new sense of belonging, empathy, and pride in her own abilities. They provided a space for Ca'Miyah, not to mimic ideas but to take them and establish her own terms for health and success and develop boundaries. 
Ca'Miyah is fierce in every effort she makes. Her commitment to her beliefs, as well as her own success is admirable, and any professional, academic, or personal community she joins is better for her presence. It has been my privilege to be able to work with such a remarkable young person.

- Dean McKnight, CIS Site Coordinator
While Ca'Miyah has received support from CIS and other adults in her life, her personal growth and development have ultimately been in response to choices that she has made after listening to trusted mentors and advocates. Ca'Miyah's successes are most notably hers, and this is her story in her own words: 
As someone who finds all validation is rooted in academic success, it is exceptionally challenging to rebuild. I found myself lost for a brief moment which completely changed my outlook on myself and the values in which I am deeply rooted.
I was raised by a single mother suffering from mental illness. In 2021, my mom's longtime car, Lullabell, broke down. We had no other transportation, and my mom had little money to save up for a new car. Around this time, I started a business creating crochet clothing to substitute for a job. My mom needed help, so I began to work very hard to help her. I made just enough to get her new van, Bonnie. 
It started to be apparent my mom needed more assistance and became more dependent on me. As time went on, my mom became unrecognizable. I was bombarded with adult responsibilities in the middle of my high school career. I lost myself and what was important to me. If everyone in my household was relying on me, who would I rely on?
During this time, my grades declined. I started to put making money over my education, and the mental drain at home was not helping me improve. I was exhausted trying to find ways to support my family and get through my most academically rigorous year. I knew I was more than a B or C student. I was stronger than I knew and was tested in all ways. At some point, I had to look in the mirror.
The answer to all my questions was so simple. I had to set boundaries. The first step was saying, "no." l was taught that you can only be your own advocate. I have to be my ambassador and pursue the most out of my life through what I know will help me to excel and what I found value through. I decided not to feel bad for myself and prioritize what was most consequential to me—school. Letting myself fail at the hand of pleasing everyone around me was out of the question. I got back to putting in the time to better my circumstances.
[I am] one year closer to my associate's degree via my dual enrollment classes. My accomplishments are mine and that is my motivation to continue to pursue the most of everything placed upon me. I have now become self-aware and see myself. The biggest gift to myself was patience and acknowledging my potential. Loving myself enough to create the life I desperately want to achieve was vital in pushing me through my academic career. 
I no longer settle when it comes to my future. I want to impact lives by being a servant to my community. Protecting and providing a form of comfort to communities is vital for the success of young people. I will fulfill this by becoming an attorney for the people.
Ca'Miyah carries a light and determination with her through everything she does, we are so incredibly proud of her progress and growth. We cannot wait to see what she does with her potential.

- Abby Tyree, MSW, CIS Site Coordinator