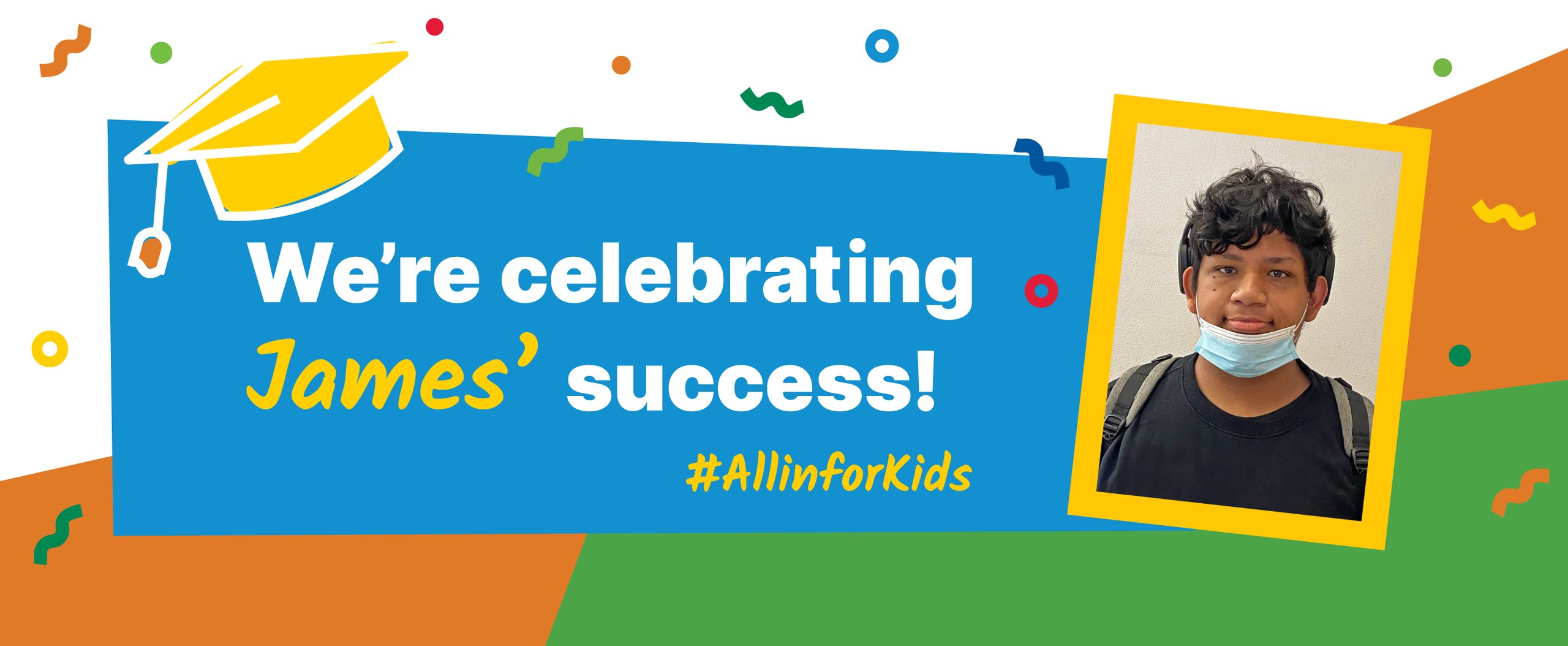 James: Finishing Strong
By Communities In Schools | April 17, 2023
During his four years with Communities In Schools® of Los Angeles (CISLA), Menendez High School student James stayed active in the programming and one-on-one case management support offered by CIS to support his health and wellness, develop his leadership skills, and prepare him for college and career success. 
During the pandemic, James' social personality hindered his transition to online learning, and he found learning from home challenging. He struggled with being away from friends and experiencing the school environment. Working with his site coordinator, James received additional one-on-one support virtually to help him adjust. The acquired skills served James well in helping him overcome feelings of social isolation, like many students experienced during school closures.
Upon returning to school, James implemented the tools he developed while learning from home to make the best of his senior year. He joined Menendez's Student Run LA Club to train for and run the LA Marathon. His CISLA site coordinator Ricky was his trainer and helped him prepare for and ran alongside him in the marathon! 
"James was a committed team player. Always motivating his teammates to finish strong, telling jokes, and never giving up no matter how many miles were left."

– Ricky Ramirez, CISLA Site Coordinator
Beyond achieving his goal of completing the 26.2-mile marathon, James explored and excelled in his on-campus activities. He was the senior editor for Menendez High School's yearbook class and part of the campus's student policing committee. 
"If it weren't for CISLA, I feel like I wouldn't be the person I am today. I've had so many CISLA case managers and all of them were kind and pushed me. If it weren't for CISLA, I probably wouldn't try to get out of my comfort zone. It wasn't until I joined CISLA that I had the courage to try things out of my comfort zone and go to college. Before, I had no plans to go to college, and now I'm enjoying it. If it weren't for Mr. Ricky and my other friends in CISLA, I probably wouldn't have completed the LA marathon in 2022. I really wanted to quit, so if it wasn't for CISLA, I probably would be someone different, but I enjoy the person I am and probably wouldn't have the friends I have now." – James Limon
James will continue his education at California State University, Los Angeles. He declared pre-engineering and will take film classes to grow his passion for photography. He is excited to make new friends and feels confident that he is prepared to navigate college. He is motivated to make his family proud as a first-generation college student.
We're proud of James for working hard to reach his goals!