Shaquille O'Neal
Former NBA Basketball Player and Hall of Fame Inductee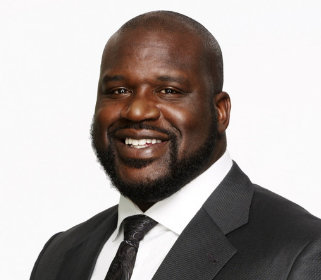 Born in Newark, New Jersey, on March 6, 1972, Shaquille O'Neal is considered to be one of the most dominant basketball players in NBA history. At 7 ft 1 tall, Shaq's larger-than-life personality and powerful athleticism have resulted in worldwide adulation and one of the most passionate fan bases in sports and entertainment. 
O'Neal played for six teams throughout his 19-year NBA career and was inducted into the Naismith Memorial Basketball Hall of Fame in 2016.
Following his career at Louisiana State University, O'Neal was drafted by the Orlando Magic with the first overall pick in the 1992 NBA draft. He quickly became one of the best centers in the league, winning Rookie of the Year in 1992–93 and later leading his team to the 1995 NBA Finals. After four years with the Magic, O'Neal signed as a free agent with the Los Angeles Lakers, where he won three consecutive championships in 2000, 2001, and 2002. In 2004,  O'Neal moved on to the Miami Heat and won his fourth NBA championship in 2006. Between 2007 and 2011, Shaq took his talents to Phoenix, Cleveland and finally Boston where he finished out is illustrious basketball career.
Shaq's individual accolades include the 1999–2000 MVP award, the 1992–93 NBA Rookie of the Year award, 15 All-Star game selections, three All-Star Game MVP awards, three Finals MVP awards, two scoring titles, 14 All-NBA team selections, and three NBA All-Defensive Team selections. He is one of only three players to win NBA MVP, All-Star game MVP and Finals MVP awards in the same year. He ranks 7th all-time in points scored, 5th in field goals, 13th in rebounds, and 7th in blocks. Largely due to his ability to dunk the basketball, O'Neal also ranks 3rd all-time in field goal percentage (58.2%).
Shaquille O'Neal's off-court accolades rival his athletic accomplishments, having found success in acting, music, television and gaming. Currently, Shaq is an analyst on Inside The NBA. In 2019, he established The Shaquille O'Neal Foundation.
Are You #AllinforKids?
Join our community of changemakers and stay connected with us! 
Learn more about the work Communities In Schools is doing and help us set students up for success in the classroom and beyond.
↑

TOP