Staff Spotlight with Arianna (Ari) Miles, Individual Giving Associate
By Communities In Schools | Aug. 17, 2022
As an Individual Giving Associate on the Advancement team, Ari Miles oversees all aspects of the gift management cycle and ensures organizational data is up to date.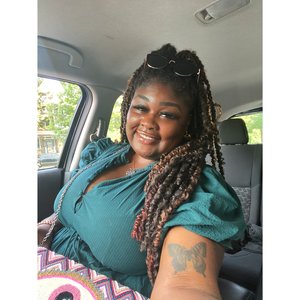 Q: How did you find your way to CIS? 
Ari: Prior to joining CIS, I was an educator in a secured juvenile facility, and I was unhappy with the feeling of knowing that more could've been done to positively impact the lives of my students, prior to them being incarcerated. With that feeling, I went on an employment search for an organization that does just that—provides resources and guidance for students that otherwise wouldn't have that opportunity. Upon that search, I came across CIS, and I felt like my position as an Individual Giving Associate was a great opportunity to merge my educational and donor relations background to impact the lives of kids that were just like my students.
Q: What do you enjoy most about your work with CIS? 
Ari: Since joining CIS, I have been given the opportunity to take on a multitude of projects that have highlighted skills that I didn't know I had, as well as sharpen some pre-existing skills. I enjoy this the most about my work with CIS because I have the autonomy that'll be necessary to advance my career within this field. Beyond that, I enjoy that through my work with stewarding and cultivating relationships with individual donors, I can see the direct effects of their financial support and the spectacular things that CIS has been able to accomplish through these contributions.
Q: What do you like to do when you're not working?
Ari: When I'm not working, I enjoy taking walks around Northeast DC with my chihuahua, as well as canvas painting, and spending time with my family back home in New Jersey.
Q: What are some of the biggest challenges in your role and how do you overcome them?
Ari: Currently, I don't believe I have run into any challenges within my role. There has certainly been challenging tasks, however, once more time and attention was given to them, they proved themselves to not be challenges after all.
Q: Why should individuals invest in the CIS mission?
Ari: Individuals should invest in the CIS mission because the work and its impact prove that CIS is necessary to propel the lives of our new generation, especially amongst those that are marginalized and disenfranchised due to various socioeconomic statuses. The testimony of our alumni alone, such as our CEO of the National Office, Rey Saldaña, shows why the work CIS does is necessary and why we all should invest in the mission.