Staff Spotlight with Elizabeth Mejia, Senior Director of Organizational Health and Performance
By Communities In Schools | Sept. 22, 2022
Elizabeth Mejia has been a leader in the Communities In Schools organization for more than 25 years. As the Senior Director of Organizational Health and Performance, Elizabeth provides technical assistance and support to Communities In Schools affiliates across the nation.
---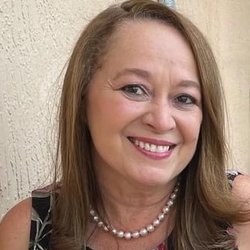 Q: How did you find your way to CIS?
Elizabeth: I had moved from Connecticut to Miami without a position in place. I stumbled upon CIS in my job search. The position announcement was quite vague, but during the interview, the mission completely grabbed me. I started at CIS of Miami as a site coordinator with the promise that they would create a leadership position for me. I took a leap of faith, and sure enough, I went from Site Coordinator to Associate Director and then CEO. As I thought about my next phase in my journey, I knew I didn't want to be the CEO of another non-profit, so working for the National Office was among my hopes. When the Organizational Health position opened six years ago, I was excited to throw my hat in the ring. I'm thrilled that for the past 26 years I've been with CIS, working to fulfill our mission and making a difference!
Q: What is your favorite memory of working at CIS? 
Elizabeth: So many that I truly cannot pick one. Deep conversations with Dan [Cardinali], the Aspen Institute on Racial Equity with Neil Shorthouse and seeing the Dalai Lama together, laughs with so many colleagues, Las Vegas with Gau, Lincoln Memorial with fellow DEI Champions. Yup, way too many.
Q: What do you do when you are not working?
Elizabeth: Reading, dancing, family time, any outing. I just love being outside, vacations, and exploring new experiences. It doesn't even matter what I'm doing or where I'm going, as long as I'm doing something.
Q: What are some of the biggest challenges in your role and how do you overcome them?
Elizabeth: The biggest challenge is having difficult conversations with network leaders. I want to be empathetic and supportive, while driving positive change. I find that any pain and worries that the network is experiencing affect me as well.
Q: Why is DEI work important to you?
Elizabeth: The simple answer is because I am a Catholic, and I cannot practice my faith without upholding social justice for all. Service and love is very important to me. Secondarily, because I have directly been affected by poverty, racism, and sexism. The thought of current generations continuing to experience what I experience is just wrong.